State of Hiring
"Hiring Cautiously is having Consequences"
Employers are carefully monitoring the direction of the economy, but they remain optimistic with 92% of companies reporting that they still plan to hire in 2023.18
In March, a survey by Duke University's Fuqua School of Business and the Federal Reserve Banks of Richmond and Atlanta found that CFOs are expecting their firms to increase headcount 2.2% this year.19 Those same CFOs report that labor quality and availability continue to outpace the possibility of recession, inflation, or even revenue/demand as their top concern.
Several strategies are emerging as best practices to help employers balance the challenges of a tight labor market against economic uncertainty. These include:
An emphasis on employee retention and skill development/hoarding
Risk mitigation with more flexible and scalable productivity solutions
Decreased reliance on job boards which are becoming less effective
Expanding talent pools to attract more diverse talent
Emphasizing Employee Retention and Skill Development/Hoarding
While layoffs at global tech companies dominate the headlines, total layoffs are flat compared to historic trends and still a fraction of voluntary quits. Expectations are that if there is a downturn, it will be brief, so forward-thinking companies are focused on retaining or recruiting top employees to ensure they maintain or build the key skills and knowledge they will need to grow through any economy.
Despite Headlines, Layoffs Are Flat and Quits Are Up
Compared to Historic Levels.3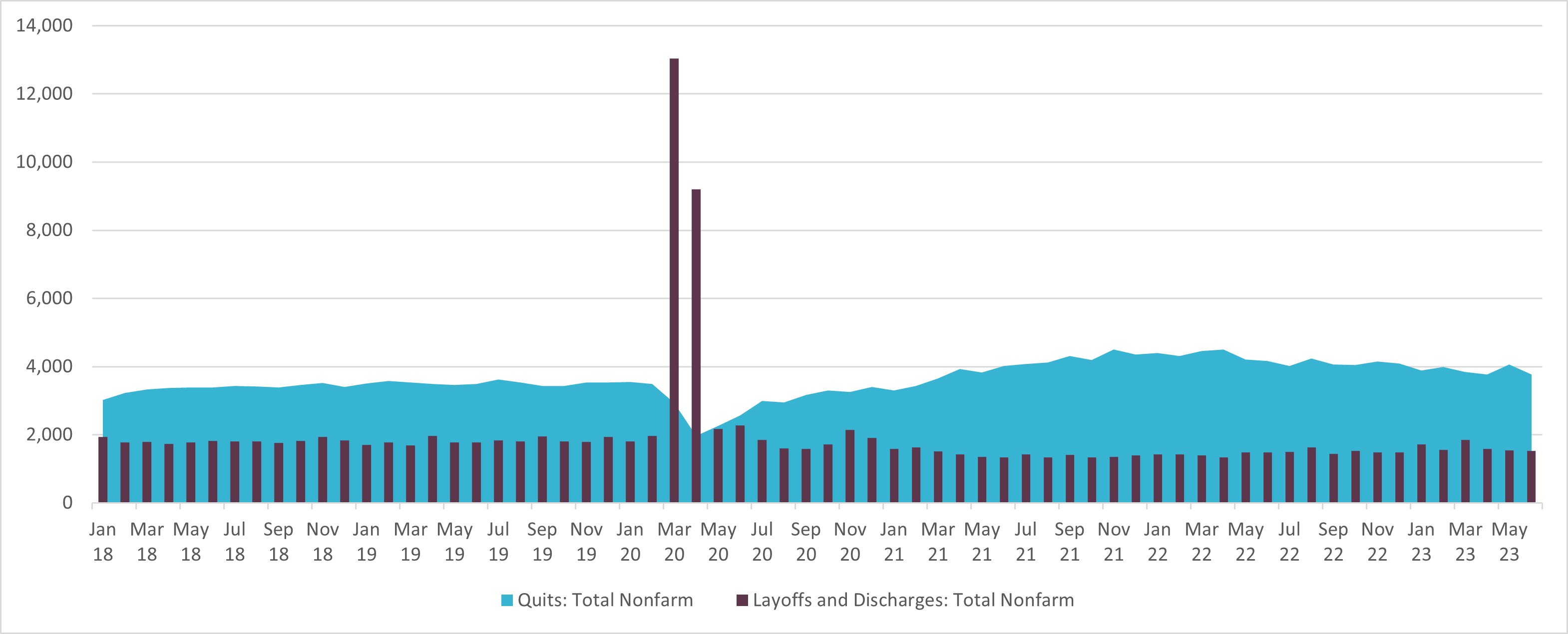 34
%
of Chief Human Resource Officers (CHROs)
plan to strengthen organizational culture to retain talent.20
Risk Mitigation with More Flexible and Scalable Productivity Solutions
Unemployment remains very low, but the future of the economy is less certain. In times like this smart companies look for ways to offset risk by embracing flexible options such as the use of contingent workers, allowing for more nimble and scalable responses to evolving economic conditions.
The Contingent Workforce Is Projected to Grow 26% in North America in 2023.21
58 million already self-identify as Independent Workers.22
(Temporary/Contingent/Contract)
Build a Flexible Workforce
Ask your hiring advisor to discuss options for using Temporary and Temp-to-Hire strategies to build a more nimble and flexible workforce.
Decreased Reliance on Job Boards, Which Are Becoming Less Effective.
Most employers are using job boards as their primary sourcing channel even as those job boards are becoming less effective. This creates an opportunity for smart employers to expand beyond traditional sourcing channels to tap a wider market of great talent.
70% of companies use job boards for most or all hiring.9
52% of workers are not actively seeking work or visiting job boards.1
Job seekers who do visit job boards are growing pickier and respond to half as many ads on average as they did pre-pandemic.10
Expanding Talent Pools to Attract More Diverse Talent
The labor market remains very tight, and finding workers with the right skills presents an ongoing challenge. Many employers are finding success with expanding their talent pools by opening jobs to a more diverse group of nontraditional candidates.
Companies that hire nontraditional "hidden workers" are 36% less likely to face talent and skill shortages compared to companies that stick with traditional candidates.25
76% of employees view workforce diversity as a key factor in their decision to remain in a role.23
Companies with more women in leadership positions have been shown to perform better financially, have higher levels of employee engagement and job satisfaction, and show signs of more innovation.24
What Is Your Top Workforce Priority?
Attracting Quality Candidates
48% of employers say that failure to find the right workers is the biggest risk to hitting their growth targets7, and 52% of employed workers are NOT actively seeking new opportunities.1
Minimizing Time-to-Hire
Job seekers say that a slow hiring process is the top reason they lose interest in a potential employer leading to increased ghosting and the loss of an employer's preferred candidate.2
Improving Engagement/Retention
Voluntary turnover remains 20% higher than pre-pandemic3 levels with more than 4 million people quitting each month.
Optimizing Costs
Labor is often one of the biggest costs of doing business and labor expense is up 4.5% year over year.3
Better Agency Partnerships and Customer Service
Customers report 3 times faster hiring and better results when working with AppleOne8.